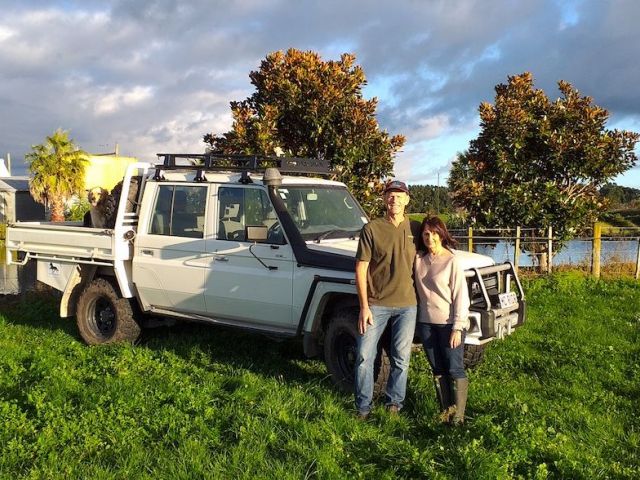 Donna is the one on the right...(and a quad bike accident casualty)
Donna brings many years of experience of compliance, systems and documentation management to SmartHS.
Donna lived for 25 years in Hamilton, has two adult children and a gorgeous golden retriever seen on the ute.
After working as a Team Leader / Microbiologist for a leading NZ Environmental Laboratory for 13 years she moved into the Dairy Industry to Quality and Compliance roles where she found her passion for Quality Assurance.
She has helped develop many procedural systems, been responsible for management of site RMP and HACCP programmes, non-conformance systems, internal auditing programmes, management of external regulatory audits, managed critical exceptions, staff management and training, creating and managing food safety inductions and implementing food safety initiatives, site wide across over 200 staff, to name a few of her responsibilities.
As Quality Assurance Manager of the Dairy Goat Co-operative Quality team, she considers her time at DGC to be a very special part of her life where she found her work passion in the Quality Assurance sector.
After nearly nine years she farewelled her DGC family in Hamilton and moved to the sunny Bay of Plenty to be with her partner Graham on his very successful G3 Sungold kiwifruit orchard. This opened her eyes to the dangers of the equipment used in the agricultural and horticultural sectors.
For a time she worked at EastPack in Te Puke as a Quality Manager, which was important to her, where she gained experience within the kiwifruit industry and also a better understanding of Grahams business. This opened a door to new Quality systems and a different industry, she loved her time there meeting so many amazing people through the season of 2017/18.
She is now working part time within a Food Manufacturing company in Mount Maunganui in Quality and Compliance, the part time work enabling her and Graham to spend time with family spread over the north island and ensuring that SmartHS provides a service to the community she and Graham can be proud of.
About 7 years ago (before she met Graham) she was the casualty of a recreational quad bike accident, the bike rolled on top of her breaking her arm and foot, she was very lucky to get away with only those injuries. Although she was wearing apprpropriate PPE she put the incident down to inexperience and lack of knowledge. So getting the right messages out there is very important to her.
From city girl to country girl, a huge change in life style, the passion for quality still in her blood, she decided to set up a business with Graham where they could share their passions and bring together their experience and expertise to help New Zealanders stay safe in their workplace.
Being part of helping to keep the community, acquaintances, friends and family safe at work is very important to both of them and thus SmartHS was created.