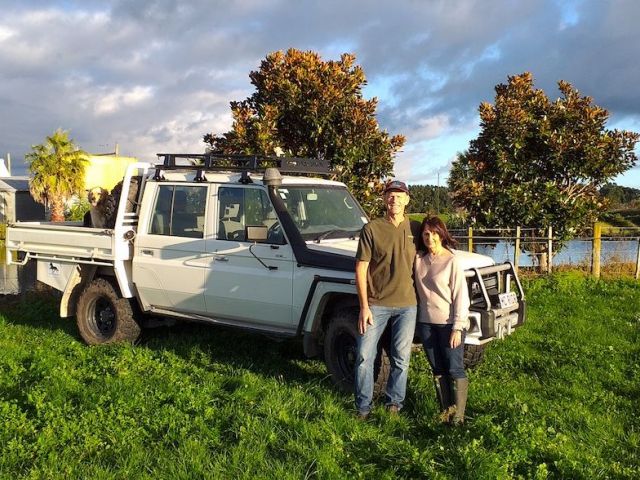 Graham is the one on the left
Graham started out Dairy Farming, 50/50 share milking, purchasing a farm, created offroadnz.co.nz near Rotorua, won the supreme Rotorua business of the year awards then moved into Horticulture. He is an owner & managing director of GD International Ltd, primarily a large grower of G3 Sungold Kiwifruit exported through Zespri International.
For 12 years while consolidating his Kiwifruit business he contracted his training and assessment skills to several safety training businesses including Farmsafe, Drive Zone, Ag Challenge, Forestry Training NZ, & Vertical Horizonz, training and assessing candidates to NZQA standards for Tractors, Quad bikes, Side By Sides, Motorbikes, 4WD vehicles & Chainsaws.
Training the users of the Agricultural machinery included Farmers, Growers, Contractors, Wind Farms, Fonterra, North Power, Vodafone, Prisons from Christchurch to Kaitaia and many more.
Graham is qualified to write unit standards and is also a qualified driving instructor for Class 1, 2, 3, 4 & 6, basically cars trucks and motorcycles.
Graham learnt the art of operating farm machinery on steep hill country where he grew up south of Rotorua and has driven tractors for several agricultural contractors since 1978.
He is also a keen trail bike rider, enjoys 4x4 bush driving and has had several class wins in the NZ national 4x4 trials competitions back in the 80s.
Graham still spends many hours a year in his own tractor, mulching, spraying or ground hogging when not on his quad bike in his orchard or visiting many parts of NZ the ordinary kiwi wouldn't see 4x4ing. With 3 adult daughters and 4 grandchildren life is busy but fun.
His training style comes from "seat of the pants" experience focusing on the how and why we do things to maintain optimum control, personal safety and machinery maintenance.
Graham's down to earth experience and passion is reflected in the training material and assessments provided by SmartHS.co.nz