Motorbike Online Training Course
This is an in-house based training program to be overseen by the owner, manager or competent representative of the farm or property. You can help your team discover how to:
Safely control a fail hill climb and reverse around.
Understand how to dominate ruts and cross irrigation pipes.
Watch the video on bike set up or run flat tyre bead lock system.
Work out whether they should be standing vs sitting, how to pick up a bike
Find loose spokes or worn out chain symptoms.
Understand some legal stuff and so much more.
Test their knowledge of the theory then they can have a crack at the practical ride examples.
Print your team member's certificate for company training records plus a lifetime proof of their completed course online.
You can then demonstrate safe operating workplace practices, as required by the Health and Safety at Work (HSW) Act 2015
You can now refer to the training material 24 hrs a day to consolidate your knowledge and use for refresher training to keep up to date with changes at no extra cost.
Module One - The legal stuff
Module Two - Safety and maintenance checks
Module Three - The controls and how to set up your bike
Module Four - Active riding, tips how to manage rutts, mud, hills and more
Module Five - Dynamics of loads, transportation and trailers
Module Six - Words of wisdom and motorbike recovery
General Health and Safety information
Demonstrate active riding safely on flat and hills with loads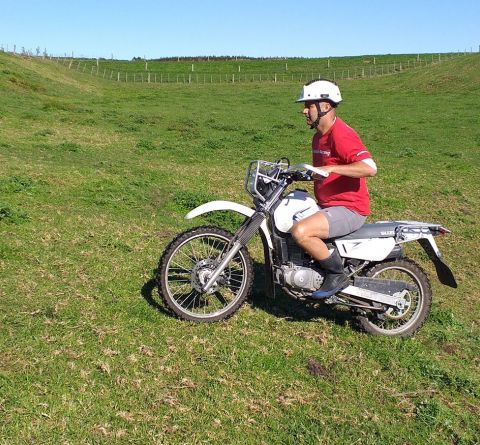 Motorbike
Online Training Course
The following study materials are available when you purchase this course:-

Motorbike training
The legal stuff
Learn the regulations for motorbikes on farm - this module covers registration, licencing and the minimum age requirements

Motorbike training
Safety and maintenance
Learn what to look out for in terms of making your motorbike is in the best condition for use

Motorbike training
Learn about the controls of a motorbike
How to set up and understand the controls on a motorbike, you need to be comfortable using different machines

Motorbike training
Active riding and the dynamics of motorcycle stability
Learn how to keep yourself safe when riding on all terrain types

Motorbike training module 4 part two
Active riding in sticky situations
Learn to handle your motorbike in unusual and potentially dangerous situations

Motorbike training
Module Five Load Dynamics
Learn how to safely carry loads, find information about towing and transporting a motorbike

Motorbike training
Module Six - Recap and Words of Wisdom
In this section you will find a summary of the course and some further words of wisdom

Motorbike Training Practical Assessment
View the information needed to complete your practical assessment
There are two practical assessments to complete in the motorbike training course. Download the documents from this page and contact your assessor when you are ready to schedule your practical.

Motorbike Health and Safety
Understand your health and safety responsibilities
Health and Safety training material for your motorbike course
The following assessments are available when you purchase this course:-

Motorbike - Online Assessment
If you are happy that you have read and understood all of the course study material, then proceed to take the assessment. Remember you can have one device or browser for the Assessment, and another to refer to the study material.