Quad Bike Online Training Course
This is an in-house based training program to be overseen by the owner, manager or competent representative of the farm or property. Use this resource to teach your team how to:
Affect stability - do you lean in or out on corners?
Choose the right trailer design, learn a couple reversing tips plus over riding the brakes in tricky situations.
Managing riding on hills, up, down and across safely. Mud, snow, rivers or sand.
TCLOC the quad, avoid attention from the traffic police and so much more.
Test their knowledge of the theory, then let them have a crack at the practical ride examples.
Print your team member's certificate for company training records plus a life time proof of their completed course online
You can then demonstrate safe operating workplace practices, as required by the Health and Safety at Work (HSW) Act 2015
You can now refer to the training material 24 hrs a day to consolidate your knowledge and use for refresher training to keep up to date with changes at no extra cost.
Module One - Legal requirements
Module Two - Safety and maintenance checks
Module Three - The controls of the Quad Bike
Module Four - Active Riding on hills, mud, rivers, sand, logs and rocks
Module Five - The dynamics of loads, towing and transportation
Module Six - Recovery and words of wisdom
General Health and Safety information
Demonstrate active riding safely on flat and hill with load and trailer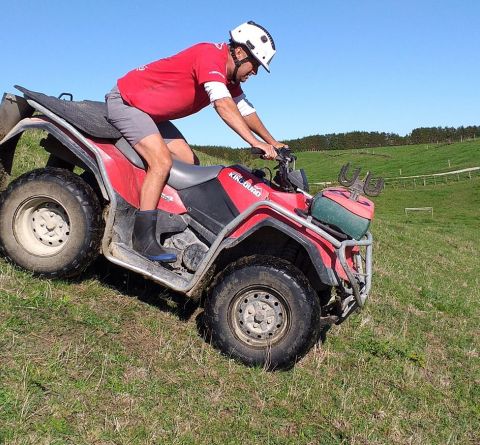 Quad
Bike Online Training Course
The following study materials are available when you purchase this course:-

Quad Bike Legal Requirements
Learn the legal requirements for operating a Quad bike
Registration rules, Legal requirements to take your Quad on the road, Age guidelines and rules about carrying Passengers

Quad Bike Safety and Maintenance
Keep your Quad Bike in tip top condition
Safety Information, Behaviour and Attitude, TCLOC and Pre-Operating Checks, After Servicing Checks, Safety Review

Quad Bike Controls
Learn the controls of your Quad Bike
They are all the same right? No they can be very different, make sure you know what to look for.

Quad Bike Active Riding, Dynamics of Quad Stability
Learn how to handle your quad bike safely in all conditions
Learn how to react in a series of difficult, but completely normal conditions

Quad Bike Dynamics of Loads
Understand the dynamics of carrying loads and towing trailers with a Quad Bike
Learn how to safely manoeuvre your Quad Bike when reversing and towing a trailer

Quad Bike Training Wow
This section summarises the Quad Bike training course - it includes information on recovery and the famous Words of Wisdom
Summary of the Quad Bike training course - this section offers a recap of the previous sections with some key pointers to help you recall the salient points

Quad bike Study Practical Assessment
Information for your practical assessment for your Quad bike training
Demonstrate your knowledge of the required skills for safe operation of a Quad bike

Quad Bike Health and Safety
Understand your health and safety responsibilities
Health and Safety material for your Quad Bike course
The following assessments are available when you purchase this course:-

Quad Bike - Online Assessment
If you are happy that you have read and understood all of the course study material, then proceed to take the assessment. Remember you can have one device or browser for the Assessment, and another to refer to the study material.